What the hell are they thinking?
I guess I should start off by saying that I'm fairly disappointed in last night's episode of Smackdown...Someone desperately needs to destroy Stephanie's ability (questionable) to write the shows...Or at least remove her sorry ass from the writing team. Stephanie - the next WWF Champ, yeah and I'm gonna pass for Chyna any day now...Triple Threat for the Championship...Why didn't she just spray paint a big target on each of her artificial boobs - one for Jericho and one for Hunter.
Who else was totally unsurprised with X-Pac's joining the nWo...Anyone care to venture a guess as to who will be drafted by each side on Monday? I for one am hoping for some pleasant surprises.
I guess that's all I have to say for this rant. Thanks for reading. As always, feel free to email me your reactions.
My Second Topic
Nothing to post here.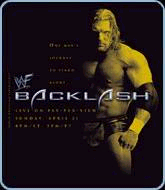 Here's another one of my fave Triple H pics...It's for the next Pay Per View - "BACKLASH". Enjoy!!!!
I'll change the photos as often as possible to keep things new.