Jan. 19, 2003
It is with great sadness that we post that Ed Farhat (the Original Sheik) passed away today after a lengthy illness. It is well known that RVD first learned to wrestle in the Sheik's backyard. A true legend of wrestling is no longer with us.
New #1 Contender for the World Heavyweight Title
RVD outlasted Booker T, Chris Jericho and interferrence from Scott Steiner and Christain to become the #1 contender to Shawn Michaels' newly won World Heavyweight Title!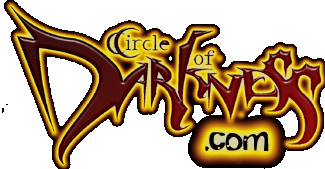 The CIRCLE OF DARKNESS, a comic book series featuring Rob Van Dam is due in stores by the end of the YEAR!
CONGRATULATIONS, RVD!!!!
The editors and writing staff of Pro Wrestling Illustrated have selected Rob Van Dam as the #1 superstar of 2002.
RVD defeat Ric Flair at No Mercy and then again at RAW
After defeating the dirtiest player in the game in singles competitions at the No Mercy pay-per-view, Rob Van Dam proved why he's not only Mr. Pay-Per-View and why he's also Mr. Monday Night when he teamed up with Kane to face Ric Flair and Triple H. Rob got the 1-2-3 after landing a Five Star Frog Splash on the former 16-time world heavyweight champion.
Release Date for "Black Mask 2: City of Masks" has been Announced
Columbia Tri-Star Home Entertainment has announced that "Black Mask 2: City of Masks" will be available for purchase on DVD and VHS on December 24, 2002. Just in time for those last minute stocking stuffers for the RVD fans in your home!!! In this movie, Rob Van Dam is one of a group of morphing action heros that can take both human and animalistic qualities. RVD stars as THE CLAW.
According to last Friday's Ross Report on WWE.com, Rob is working through a hand injury. Good Ol' JR didn't bother to mention how extensive the injury is or if it might eventually lead to having Everyone's Favorite Superstar sidelined. He said that it was most likely the reason that Rob's performance wasn't up to par at Unforgiven or last week's RAW. Uh, puhleeze, can the WWE official's please quit covering Triple H's ass for not wanting to put over the talent that the fans want to see on top?!!!
Sept. 23, 2002
RAW
RVD went looking for revenge against Ric Flair and Triple H after they cost him the World Heavyweight Title at Unforgiven. Rob teamed up with Bubba Dudley in the main event against HHH and Flair. When Bubba asked Rob about competing in the match given the condition of his injured ribs, Rob said "They took my Intercontinental Title and they took my heavyweight title shot. I have nothing left to lose."

Pre-match discussion.......
Even better than the original!!!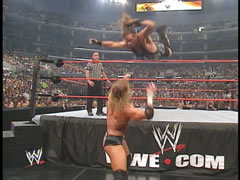 somersault plancha
Dirtiest player in the game strikes again!!!!
After Flair's assistance, HHH gets the win - DAMMIT!
RVD seemed to have the match wrapped up. Even though the referee was out of commission, Mr. Pay-Per-View had momentum on his side. Things looked even brighter when Ric Flair raced into the ring and picked up a sledgehammer that The Game had dropped. Flair sneered and turned to Triple H, but suddenly whirled around and nailed RVD in the chest! Triple H gawked at Flair then cautiously set up Van Dam for the Pedigree! Flair helped the ref to his feet to count the 1-2-3! Flair and Triple H celebrated and left together with the World Heavyweight Championship in tow!
September 16, 2002
RAW
RVD hunts down Triple H
After much talk and an in ring verbal confrontation to start Raw, Rob Van Dam got the better of the Game both before and after his title defense against Jeff Hardy. However, Triple H cost RVD his Intercontinental Title in his match against Chris Jericho.
Sept. 9, 2002 - Monday Night Raw
RVD Wins 4-Way Elimination Match
Rob Van Dam pinned Chris Jericho to earn the right to face Triple H for the World Heavyweight Title at Unforgiven in two weeks. After a match that included Jeff Hardy, The Big Show and Y2J, RVD proved once again that he's Mr. Monday Night and now he's Triple H's number one contender!
Sept. 2, 2002 - RAW
RVD pins Triple H
To end a hotly contested tag team match up that had Rob Van Dam and Ric Flair facing Triple H and Chris Jericho, RVD hit the Five Star Frog Splash on the Game to score the 1-2-3!!!
Monday Night Raw - August 26, 2002
RVD defeated Tommy Dreamer in a hardcore rules match to combine the Hardcore Title and the Intercontinental Title.
Rob Van Dam vs Chris Benoit
Intercontinental Championship
RVD sent an early message with a bunch of hard kicks to the Rabid Wolverine who was forced to regroup outside the ring. And regroup he did, driving RVD to the mat and using a series of holds to wear down RVD.
After a vicious suplex by Benoit, referee Earl Hebner asked RVD if he could continue. RVD said, "yes" and suffered for a few more minutes at the hands of the reigning champ.
An inside cradle by RVD seemed to inspire him for a moment, but just as soon, Benoit took control with a few knife edge chops.
A split legged moonsault then went awry for the SoCal high-flyer, and Benoit attempted the high-risk flying head butt off the top rope and missed.
Van Dam countered with the 5-Star, but Benoit rolled away and applied the Crippler Crossface to a hurt RVD. RVD managed to find the ropes, and the match continued with Benoit in control.
Several minutes later, Benoit cinched in the Crossface again., RVD, broke free! Nevertheless, Benoit continued his relentless assault including three German Suplexes and another Crossface which RVD escaped from.
Finally, RVD got some offense in with a springboard, near fall, Rolling Thunder, and another near fall.
Benoit fought back and went for a suplex off the top rope and RVD countered in the air and turned it into a body slam. With Benoit prone on the mat RVD went for the 5 Star and hit it. One-two-three. RVD is the new Intercontinental Champion.
Winner: RVD New Intercontinental Champion
Advantage: Benoit, for now
Five Star - For the Victory!!!
August 23, 2002
In today's version of the weekly Ross Report, JR noted that Rob is working through some elbow pain that may be caused by either tendinitis or bone chips. Hopefully, RVD can escape needing surgery for this.